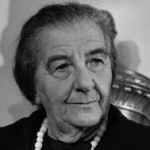 At the Greenwin Theatre, Toronto Centre for the Arts, Toronto, Ont.
Written by William Gibson
Directed by Schwartz
Scenic consultant, Anna Louizos
Costume consultant, Jess Goldstein
Lighting by Jeff Croiter
Sound by Alex Hawthorn
Cast: Tovah Feldshuh
An historically rich play about the traumatic days of the 1973 Yom Kippur War when Egypt and Syria attacked Israel and how Golda Meir coped with how to deal with it.

The Story. It's about Golda Meir, Israel's 4th Prime Minister. It centers around her trial by fire, the 1973 Yom Kippur war when Egypt and Syria attacked Israel and how she handled it.
It gives background about Meir, born in Ukraine; grew up in the US. She married and moved to Israel because she loved the idea and philosophy of the place, particularly kibbutz living. She was political and a radical.
The play also illuminates the passion and tenacity of Golda Meir and how she manoeuvred the rocky waters of diplomacy. The US promised planes and was slow to send them. Through her diplomat she threatened Henry Kissinger and Richard Nixon by saying that if the US didn't help them she would order nuclear bombs to be put on Israel's planes when they defended themselves against its enemy. She got the help and the planes the Americans promised. Golda had the gust of a bandit.
The Production. That gutsiness comes through in spades in the energetic, passionate performance of Tovah Feldshuh as Golda Meir. Feldshuh has played Golda's Balcony on Broadway; was nominated for a Tony Award and toured the play.
The set is on a raised square platform. There is a desk, a chair, a phone and papers are on on the desk. A textured back wall is ideal on which to project a picture of her husband when she mentions him along with Moishe Dayan, David Ben-Gurion and other characters.
.
Tovah Feldshuh wears a wig, a fat suit, a fake nose and stuff to make her legs look big with varicose veins. She smokes endless cigarettes but I notice that she takes a puff or two and then stubs out the cigarette. I doubt Mrs. Meir only took a few puffs. But the image is clear—this is a woman who chain-smoked. You could see the stress of the job in every smoky exhale.
Feldshuh tears around the stage with authority, barking orders to her heads of departments and slamming the phone down when she's finished making a point. It's directed by Scott Schwartz and there are projections of the various men in Golda's life—her husband and the other politicians she works with so we get a context when she mentions them.
At times I think the movement is a bit too much, that some stillness might be good for a change. But the essence of that woman comes through clearly in Tovah Feldshuh's bracing, commanding performance.
Comment. The play was written by William Gibson in 2003—and is a kind of re-write of a previous play he wrote called Golda. There was no one like her. This play and production prove it.
The Harold Green Jewish Theatre presents:

Opened: June 9, 2016.
Closes: June 19, 2016.
Running Time: 90 minutes.
www.hgjewishtheatre.com