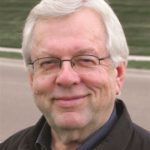 David was a teacher, professor, educator, author, guest-speaker and mentor among many things to so many in the education profession.
I 'inherited' David as a friend because he was my close friend, Larry Swartz's teacher, professor, mentor, PhD supervisor, writing partner and co-editor among many things. And because of who David was, he too became, in a way, my teacher, professor, mentor, co-conspirator, appreciative joke-teller etc.
His son Jay was his pride and joy. Jay is also a pure example of how love and careful parenting can create a good, caring and loving man. David's grandchildren filled every space of his heart. He couldn't boast enough about them and with such perception and clear-eyed knowledge of what makes a good kid. His patience for them was wonderful.
David talked quietly, deliberately, and by God he made people listen hard. I never heard him raise his voice in anger or frustration but you could tell when he became impatient with an ill-placed thought or an insensitive person—his smile would become tight, there was a stare in the eyes that spoke volumes. If he disagreed with an idea he thought was silly, the word "noooo" came out slowly. Those attuned knew to back off. Those who didn't, well, David could dispatch a silly idea with economy and clarity. When he did that, it was a valuable lesson in so many ways.
When his good and close friend Linda Genesi-Williams had her traditional Easter, Thanksgiving, Christmas dinners with her two daughters, her sons-in-law and grandchildren, David sat at the head of the table, Larry sat over there next to Linda and I sat to David's right. He could give a sincere compliment that would have you floating for days. He could float an irreverent remark that had you instantly doubled over laughing. He was fastidious in every single thing, from carving a turkey to wearing clothes elegantly.
Getting kids to read was one of his passions. Getting the rest of us to think harder and do better was another passion.
David had a heart-attack on Dec. 20. My friend Larry tried to tell me as gently as possible that it didn't look good. Larry and Linda were with him the whole time. Jay flew in from Minnesota and held David's hand to say good-bye. Linda e-mailed me on Saturday, Dec. 22, "He's gone."
In typical David fashion he didn't want a funeral. There was a celebratory breakfast with the 'regular' group and some cousins. The table was filled with rambunctious children, sad adults wondering what they would do without him and lots of memories. Because David taught us so well, he left us with this acronym for those hard times: WWDD (What Would David Do).
Perfect.