Tara Rosling is a celebrated actress, certainly notable for her starring performance in the Shaw Festival's production of Saint Joan. Her Saint Joan was fearless and compelling to the point that many patrons were probably ready and willing to strap on a sword and follow her into battle.
Since the pandemic shuttered theatres Tara Rosling has been fiercely focusing her attention on little green shop, her company that sells environmentally sound and responsible products for body and home.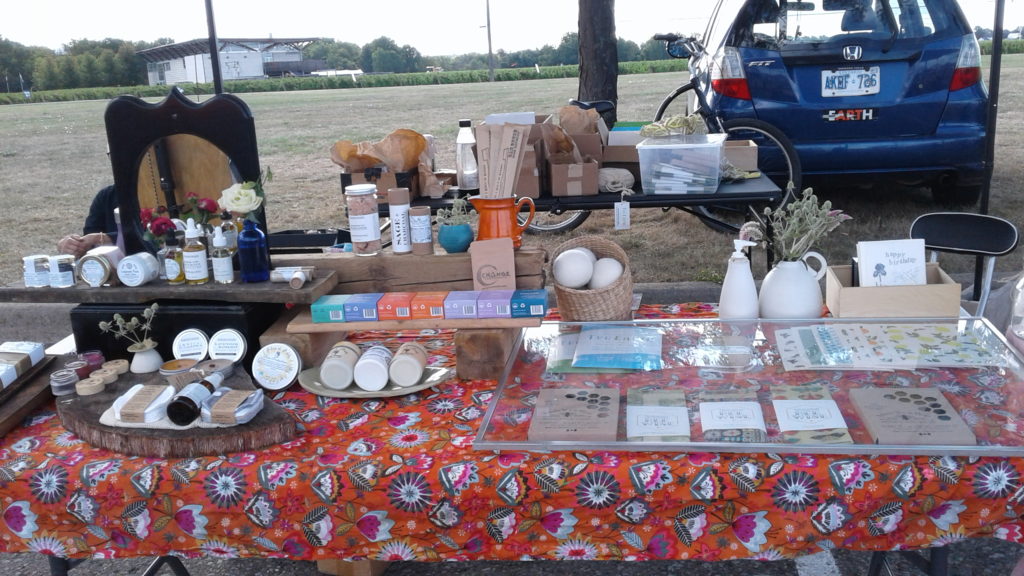 Rosling and her actor-husband Patrick McManus are parents to a public school aged daughter who founded The Eco Club at her school to spread environmental awareness. Tara Rosling helped her daughter when they came up with the idea of having a table of eco products at the school's fundraiser and little green shop was born. (I love the no-frills name of the company—no "the" before the name and no capital letters, unassuming but formidable in its own way. And as Rosling adds "it was also spearheaded by little humans" so small letters seem appropriate.) Rosling had been thinking of getting more involved with environmentally friendly products for a few years. Helping her daughter with the fundraiser was a natural progression, and when there was product left over Rosling just 'went for it' and expanded the company.
She sourced hand soaps, face creams, shampoo and conditioner bars, deodorants, beeswax wraps, dishwashing liquid, house-cleaning products, true earth biodegradable laundry strips and scrubbers made of re-purposed coffee-bean sacks. She found small one-person companies who made these products that were environmentally friendly. There also were local 'refilleries' where customers could bring their own containers and fill up on unwrapped products so there is zero waste in wrapping. At the fundraiser event the information on these small companies was available to spread the word about these safe, environmentally friendly products and the local companies that sold them.
Rosling became familiar with catalogues that listed such products, tried them and then decided to create a relationship with the people who made the products. Occasionally she would buy a product on blind-faith and decided she didn't need to order it again. As Rosling says: "I started cruising eco-friendly websites looking for products that I liked." This led her to discover: an "eco-sponge" which is a durable scrubber made out of recycled fair trade coffee sacks; Sarah's soaps in St. Catharines, Earthlove bath & body in Hamilton, two acre farm in Collingwood and Earthlove home in Oakville. She met or contacted every person who makes the products to see who these people were. In the process Rosling also found she was making better choices when she realized she was not as 'green' as she thought she was. As she began selling these products suppliers sought her out.
She says: "I think it started because of Covid – I wanted to make the parcels very personalized and special. So I wrap everything in brown paper and rubberstamp it and tie it with leftover pieces of fabric. I often add dried flowers. I also stamp people's names on their brown paper bags, and make origami butterflies which contain hand written poems… Mostly by Mary Oliver and those are usually sewn onto the bags. I'm also making cards with the same origami butterflies and fabric sewn onto them. All these are on my Instagram page as well." I love that attention to detail and care in creating the parcels for customers
Tara Rosling's website for little green shop is beautiful. The products are tastefully displayed and explanations are clear and simple. She also has a display table at the Niagara-on-the-Lake Farmer's Market (in Garrison Village on Highway 55 and Mississauga Road) every Saturday morning from 8 am to 1 pm until the end of October. I wanted to see the products in person so I drove from Toronto to Niagara-on-the-Lake one recent Saturday morning (okokok, I know that that was not ecologically sound, give a person a break!)
The same passion and focus that Tara Rosling devotes to her acting, she pours into her zeal for her products. Her table has a good supply of the various products she sells, all beautifully displayed. She knows the qualities of each, how well they do the job they are supposed to do and she doesn't push you to buy anything you are not sure of. While I might be ready and willing to strap on a sword and follow her into battle, I had an easier time buying her products and trying them.
The shampoo bar is wonderful. It lathers like crazy and gets my hair squeaky clean, leaving it silky and shiny when it dries. The deodorant of course does not have aluminum and has a delicate fragrance and leaves me dry and protected. The cleaning tab dissolves in ½ cup of vinegar in a spray bottle and cleans beautifully. Just a teaspoon of the dishwashing liquid is all that's needed to clean a sink full of dishes spotlessly. The liquid is contained in a mason jar. I also bought a fabric kind of dishwashing sheet to clean the dishes. At the end of its life it's biodegradable. I also bought the scrubbers which I haven't used yet but they certainly are substantial. I also will use the laundry strips this week.
Ideally delivery of the products is made either on foot or bicycle assuming someone lives in Niagara-on-the-Lake, Ont. where Tara Rosling lives. But arrangements can be made to make deliveries to Stratford, Ont. and Toronto, etc.
Tara Rosling's little green shop is a wonderful, ecologically sound and responsible company selling beautifully crafted, ethical products. Her passion is catchy. Please give her website a look, buy something and help the environment in the process.
Website – littlegreenshop.org